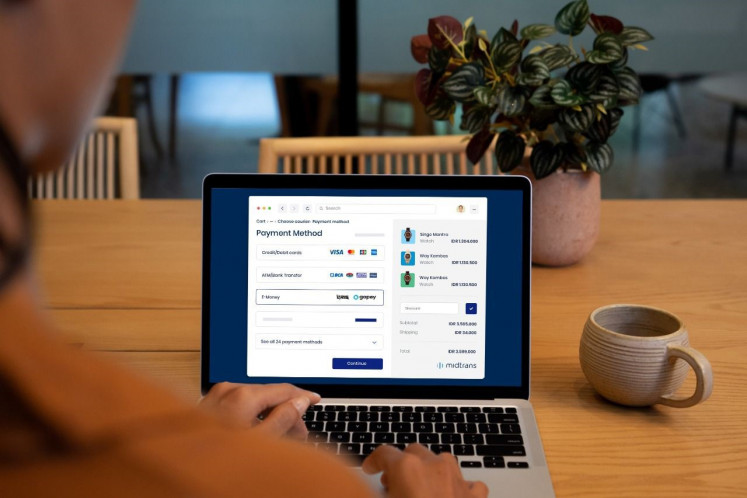 Gojek and GoTo Financial share Ramadan insights for MSMEs in e-book and podcast
April 12, 2022
.
Gojek and GoTo Financial have seen an increase in customer spending during the holy month of Ramadan for purchases ranging from packages for loved ones and new culinary treats for iftar to new clothes for Idul Fitri.
While the upward trend of online transactions brings many benefits to Indonesian micro, small and medium enterprises (MSMEs), especially during the holy month, the increasingly competitive market is inevitable. Therefore, MSMEs need to stay at the top of their game by responding to rapidly changing consumer habits and trends in order to grow in the long term.
Underlining their commitment to empowering MSMEs, Gojek and GoTo Financial have launched an eBook titled 5 #JosGandos tips to increase sales during Ramadan 2022. The e-book is available free of charge at gjk.id/josgandos.
Bayu Ramadhan, Head of Merchant Marketing Group Gojek and GoTo Financial, said: "Business partners still have time to determine effective strategies during Ramadan by understanding data trends, including when and how to increase product sales. and services across various channels, both in offline outlets and social media. . As a growth partner for these businesses, Gojek and GoTo Financial are committed to providing holistic technology and non-technology solutions to MSME business partners at every stage of their growth. This effort is also encouraging economic recovery in Indonesia."
Looking back on the Ramadan trend of last year, Gojek and GoTo Financial found that online transactions were dominating various business sectors, from payment systems, retail goods and services to food delivery.
From their internal data, they found that e-wallets still maintained their position as the preferred online payment method for consumers who paid through Midtrans. During Ramadan 2021, GoPay became the primary payment method for over 60% of consumers transacting online through leading payment gateway Midtrans, followed by bank transfers at 13.5% and credit cards at 10, 5%.
However, to provide a more comfortable and convenient shopping experience, it is also important to provide offline payment options due to the return of offline activities. For those who are starting to focus on pursuing offline sales, GoBiz PLUS may be a solution.
Offline businesses are experiencing a resurgence following the easing of social restrictions. Fashion and beauty products saw an increase in demand during the month of Ramadan by up to 285%, compared to the months before Ramadan in 2021. Despite the drop in sales after Ramadan 2021, the average income of business partners in the fashion and beauty sector is still 107% higher than before Ramadan.
To boost long-term sales, the momentum of Ramadan can become a great opportunity to try out various sales strategies, as success during Ramadan can serve as an important lesson for long-term survival and success.
Zyta, the founder of local fashion company Zytadelia which uses Midtrans, said Ramadan was a special month for her and Zytadelia's business, where customers are often on the lookout for hijabs and other products. clothing.
"Since our partnership with Midtrans in 2019 to zytadeliastore.com, payment-side and consumer behavior information that was shared by Gojek and GoTo Financial during and after Ramadan can provide an overview of transactions and common issues faced by sellers. With this insight into customer payment patterns, we can prepare for Ramadan 2022 with the right production and sales strategies," she said.
In food delivery, promotions are key to reaching more customers. As promotions have become an integral part of the culinary industry, the right deal shortens customers' purchasing decisions in addition to quality and taste considerations.
During Ramadan, promotional schedules and the type of dishes prioritized must be adjusted. For example, based on last year's Ramadan data, GoFood orders before sunset and dawn increased significantly by 17%, providing MSMEs with a golden opportunity to earn more revenue.
In addition to adjusting the time, the type of dishes should also be adjusted accordingly. In addition to various snacks and drinks which are widely ordered as takjil (fast-breaking snacks), favorite foods during Ramadan come in the form of staple foods, such as various rice dishes, ready-to-eat meals, and various chicken and duck dishes. Simultaneously, international dishes such as pizza and various Japanese dishes also receive high orders.
For those who prefer to listen, the educational business podcast Lika Liku Laku can also be streamed via YouTube and Spotify.
All of this information and educational content provided by Gojek and GoTo Financial is part of the ecosystem's commitment to encourage MSMEs to grow together by providing them with holistic support to increase their income even after Ramadan.