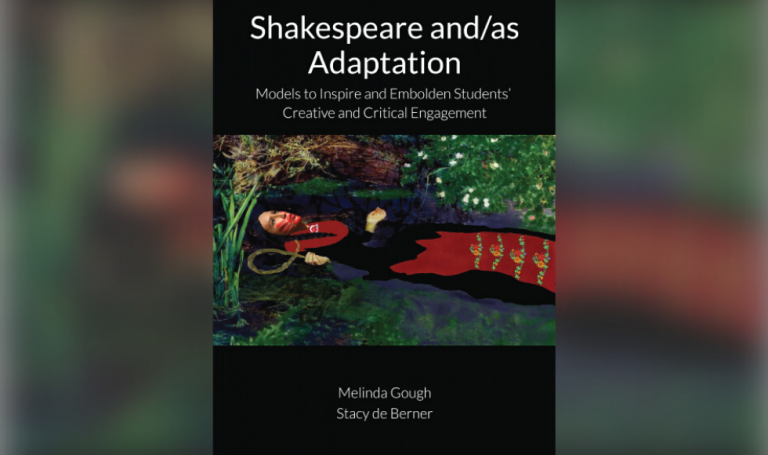 New e-book explores Shakespeare's ongoing legacy and/as an adaptation – Daily News
The cover of 'Shakespeare and/as Adaptation: Models to Inspire and Embolden Students' Creative and Critical Engagement' features Stacy de Berner's digital adaptation of John Everett Millais' painting 'Ophelia'.
During his lifetime, Shakespeare was a borrower, raising plots, characters and phrases from contemporary and historical sources as varied as Boccaccio, Holinshed and Plutarch.
Four hundred years later, the borrower has become the borrowed. Since West Side Story for The Lion Kingand Toni Morrison Desdemona at Vishal Bhardwaj maqboolShakespeare's works have been adapted for modern audiences in a range of genres.
It is this dual role that is explored in Melinda Gough's second year Shakespeare course, 'Shakespeare and/As Adaptation', and which is the subject of a new resource created by Gough and her students that has recently become available. on eCampus Ontario.
Shakespeare and/or Adaptation: Models to Inspire and Encourage Creative and Critical Student Engagement is an e-book built on Pressbooks, an open-source online platform that, among other functions, enables academic authors and publishers to create, adapt, and share materials such as digital textbooks and other resources.
The book features a selection of final student projects, which address classroom themes in one of three ways:
Students could create and then analyze their own adaptation of Shakespeare
They could analyze how another artist from a later period borrowed Shakespeare's works
They could explore how Shakespeare borrowed from historical or contemporary sources
The book is now also able to serve as a resource for future instructors and students interested in undertaking a similar type of project.
"[The students'] curiosity, creativity and critical thinking have inspired this resource as a way to help build, beyond the limitations of this [Shakespeare] of course, a more welcoming, engaged and inclusive intellectual community centered around Shakespeare and/as an adaptation," Gough wrote in the press kit acknowledgments.
Stacy de Berner, a fourth-year English and cultural studies student who took the course, worked with Gough to create the press kit, first working on the project during the summer of 2021 as part of the program Aboriginal Undergraduate Summer Scholars (IUSRS).
"Working on the press kit allowed me to meet many different people across the university and in different departments, which gave me a unique insight into how the university works and what you can do with it. a doctorate," she says. "Seeing how they build on each other was inspiring – as was the collaboration and cross-disciplinary connections."
For his final project, de Berner created Take Ophelia out of the reda digital adaptation of the painting by John Everett Millais Ophelia which contrasted the 19andcentury's fascination with the drowning of Ophelia with the contemporary lack of attention given to reports of missing and murdered Indigenous women.
The image, which replaces the image of Ophelia with that of an Aboriginal woman, was used as the cover of the book, while her analysis of her paper won the Level II Humanities Essay Prize.
"I think it's important to use the canon and brand of Shakespeare to talk about the issues that particularly affect Indigenous peoples, but also other populations," says de Berner, who is an off-reserve Chippewa from the First Beausoleil Nation.
"Shakespeare borrowed, and so I borrow his stories to talk about our issues. It puts Indigenous people in spaces where we were previously excluded. We steal his thunder and use it for ourselves.