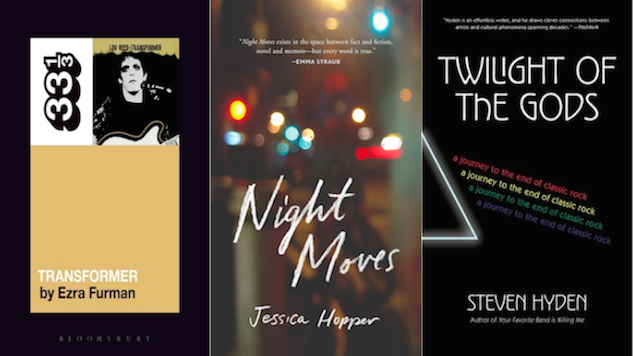 The 2018 Music Book Gift Guide
While on vacation you might want to read something a little lighter than Mueller's impending investigation of just how bad global warming really is or the rise of fascism around the world, so why not buy one of those great music books from last year? Music books contain some of the best stories on the road, tales of musical folklore, obscure album references, and general music nerds. Whether you need a holiday gift for the music lover in your life or are looking for another book for your own reading list, here are 10 enjoyable books related to last year's music.
Music journalist and author of the famous underground indie chronology, Our group could be your life, Michael Azerrad's latest book addresses cliché music journalism rather than his love of music itself. Inspired by his Twitter @RockCriticLaw food, he decided to turn his fun skewer of common music writing tropes into an illustrated book. The book isn't meant to be a call to bring down all the music critics who have already called a second album a "sophomore effort." Instead, it aims to empower writers to transcend the platitudes of writing music while making us laugh at the accuracy of its scruples. Complete with illustrations by his friend Edwin Fotheringham, this paperback list of "101 Unbreakable Rules for Writing Badly on Music" is a must-have for current and aspiring music writers and music fans. Buy the book here.
We already knew Jeff Tweedy could write. Both as the frontman of Wilco and Uncle Tupelo and as a solo artist, he wrote rock songs, experimental folk tunes, and tangy alt-country jams. From Wilco's debut album A M in 1995 to recently released singles from his next solo album WARM, Tweedy's music cemented his status as a stable and adored musical scribe. However, we didn't know that Tweedy could write a delivered, and do it really well. But with the arrival of his new memories, Let's go (so we can get back), which released earlier this month, it's clear that Tweedy is just as adept at writing non-fiction as he is songs. Let's go is such an insane examination of Tweedy's personal life and career that even the most casual fans will be hooked. Buy the book here.
"I love Chicago the way it is, perfectly polished after years of decay," writes Jessica Hopper in her new book, Night movements. "It makes me want to lean my face against the rails of the L Green Line tracks and pledge my allegiance to the long concrete meadows of Lake Street." Now 42 years old and still based in Chicago, Hopper has been a music critic for more than two decades, and is the author of several books, including, The first book of reviews from a living female rock critic. Told in a series of brief, non-chronological diary entries, Night movements recounts her time in Chicago where she rooted herself in the city's underground music scene through her work as a music writer, DJ, occasional musician and as a music lover and consumer, captivated by shows live and possessing a freedom that nourished her without limits. curiousity. Buy the book here.
Rock critic and author of Your favorite band is killing me, a book that intelligently explores group rivalries, Steven Hyden returned this year with Twilight of the Gods: A Journey to the End of Classic Rock, a new version of the "rock'n'roll is dead" argument. Partly memory and part exploration of the current state of classical rock, twilight of the gods explores the impact of rock on culture (and subcultures), then questions whether or not it can survive in today's musical landscape. In the book, Hyden not only offers his own rock music expertise, but he also interviews the artists and fans who have traveled the rock roller coaster over the decades. On the memories side, Hyden writes about how rock music has aged with him and his idolatry of the rock gods. There aren't many straight answers when it comes to rock's fate, but Hyden's review will definitely help you turn things around. Buy the book here.
This summer marked the 50th anniversary of The Band's debut album Music of the big rose. To commemorate the distinguished career of this group with Canadian-American roots, musical writers Harvey Kubernik and Kenneth Kubernik wrote The history of the group: from Big Pink to the last waltz. The book features unseen interviews with band members and others who have worked with them like Ronnie Hawkins, Jerry Garcia, Andrew Loog Oldham, DA Pennebaker and Mike Stoller. This gorgeous tabletop book features plenty of full-page photographs of the band alongside big names like Bob Dylan, Joni Mitchell, Neil Young, and Muddy Waters. Buy the book here.
If you are looking for a Cure fan or rock aficionado who is not very good at biographies and oral histories, this book would be a perfect gift. Much like the kids' section of the library: There are plenty of images in this vibrant coffee table book, but there are also some interesting treats. A perfect dream, released in honor of the band's 40th anniversary, looks back on The Cure's debut on the British punk scene in the late 1970s and through the "In Between Days" when they gained international fame. Music journalist and author Ian Gittins has written and interviewed The Cure throughout his career, and here he offers a vivid look at theirs. A perfect dream, filled with memorable photographs and even more memorable quotes, is best enjoyed while listening to your favorite Cure album. Buy the book here.
REM was one of Tom Sheehan's favorite artists to tour. Sheehan, the famous British music photographer, made this Georgian group the subject of his latest photography book. He first met REM in 1984, and according to a press release, he was "first constrained by their southern strangeness and their unique alternate version of '60s rock and jangle." From 1984 to 2005, Sheehan captured countless images of the group and he became fascinated by the charisma and presence of frontman Michael Stipe. Stipe wrote the foreword to the book, commenting, "Tom Sheehan was there to capture it all – those moments include a beautiful and lucky life." The 240-page hardcover book, featuring many never-before-seen images, is available in deluxe and super deluxe versions, both available through The flood gallery. You can also browse some of the photos here.
Questlove really is a jack of all trades. He is a musician, producer, entrepreneur and teacher. He is the co-founder and frontman of The Roots, the Grammy-winning house band at Tonight's Show with Jimmy Fallon, of which he is also the musical director. He even just launched a popcorn line at Williams Sonoma. Man can do it all, easily balancing family efforts with more daring pursuits. Did we mention he's an author too? This year he released his fifth delivered, Creative quest, a follow-up of 2016 Something to eat, who explored the minds of the world's most innovative chefs. This time around he's offering his wisdom on creativity in general, including specific tips and tricks and also insights he gained through his inspirations, from people like George Clinton, David Byrne and Björk. Questlove just wants to answer your art questions and help you nurture creativity in your life. But the real question is, when are you sleeping, Questlove? Buy the book here.
After the release of his latest impressive and punchy album Trans-angelic exodus, Ezra Furman posted an ode to one of Lou Reed's most fascinating releases, Transformer, for Bloomsbury's 33 1/3 book series. Furman taps into the mystifying and elusive qualities of Lou Reed's most popular album, which he describes as "interesting and disappointing." A lot of people wanted to neatly categorize the record into a few different categories, but Furman reminds us that things aren't always what they seem. With Reed's unmistakable aura, jaded intellect and sexual ambiguities, the record's commercially accessible rock veneer is quickly washed away. Furman's exploration of identity and his equally idiosyncratic creative mind make him the perfect person to tackle a huge rock'n'roll staple like Lou Reed's. Transformer. Buy the book here.
BBC Radio 6 Music is a repository of musical history and more recently a hub for alternative artists to share their work. The first time is a collection of 40 interesting interviews from Matt Everitt's show on Digital Radio Station, and includes conversations with legends like Courtney Love, Elton John and Paul Simon, as well as alternative rock icons like Dave Grohl, Billy Corgan and Trent Reznor. In addition to interview transcripts, each entry features eye-catching artwork and a playlist curated by the artist for the Everitt show. This book would make a great gift for the music nerd all around your life. Buy the book here.