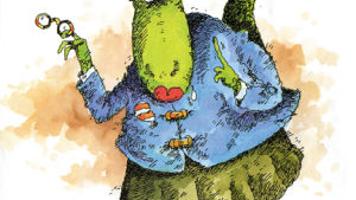 The Professor of the Black Lagoon and other story books! | Great People
"The Teacher from the Black Lagoon & Other Story Books", a musical review based on favorite contemporary children's literature, will be performed at the Reif Center on Friday, January 31 at 7 pm. Seven delightful stories come to life in the Theatreworks USA Revisited musical, including 'Dogzilla', 'Grumpy Bird', 'I Want My Hat Back', 'Lily's Purple Plastic Purse', 'Love Splat (Splat the Cat)', "The Grasshopper and the Ant" and of course "The Teacher of the Black Lagoon.
The 60-minute musical is recommended for ages four and up.
Theatreworks USA has a distinguished history of not only providing young audiences with their first glimpse of the performing arts, but also giving young actors, writers, directors and designers an early opportunity to work in this field. A list of Theatreworks USA alumni reads like a true 'who's who' of theater: four-time director Tony Zaks, Robert Jess Roth (Beauty and the Beast), Michael Mayer (Thoroughly Modern Millie) and writers Marta Kauffman and David Crane (the "friends" of television). The esteemed performers F. Murray Abraham, Henry Winkler and Judy Kuhn also made their debuts with Theaterworks, and other actors went on to create lead roles in Broadway shows such as "Avenue Q", "Hairspray", " Young Frankenstein "," Rent "," Wicked "," Jersey Boys "and many more. The actors, screenwriters, directors, choreographers and designers of "The Teacher from the Black Lagoon" could also experience similar success in musical theater.
The Reif Center would like to extend a special invitation to the young participants of this upcoming event dressed as their favorite storybook character. There will be a costume parade on the Reif stage starting at 6:50 p.m. They will also offer 10 books after the performance!
Tickets for this show are currently available at the Reif Center box office, Reed Drug, by phone at (218) 327-5780 or online at www.reifcenter.org. The cost is $ 18 for adults, $ 16 for seniors and $ 9 for students. A free student ticket is available with each paying adult or senior. $ 5 Student Rush tickets are also available at the door starting at 6:45 p.m.