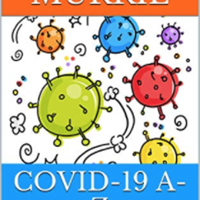 Union Man and Son Write Children's E-Book Explaining COVID-19 | Featured Stories
Steve and Matt Murrie, the father and son writing duo, have created an eBook for children to explain the novel coronavirus, "COVID-19, from A to Z."
It is available on Amazon.com as an eBook only, although the Murries plan to have printed copies available at some point.
Steve Murrie, a retired science teacher who lives in Union with his wife Nancy, and his son, Matt, a 1994 graduate of Union High School who now lives in California where he works as an educator, based learning creator on curiosity and social entrepreneur, have written several books together, including:
"Every Minute on Earth", "Every Day on Earth", "While You Sleep", "Guide the Planet" and "The First Book of Seconds".
Their agent, Jess Regel, of Foundry in New York, approached them to write a book to help children understand COVID-19 and the new coronavirus that has been disrupting their lives and the world for months now.
Steve Murrie came up with the idea of ​​creating an A to Z word list to relate to the virus – A, antibiotic; B, bacteria; C, coronavirus; D, doctors. . .
The two spent about a week preparing the material for the book. Steve wrote the introduction and conclusion, and Matt found the pictures to illustrate each word.
"The introduction is about strangers and tells kids that every day when they wake up, strangers happen in their lives," said Steve Murrie. "They have treated them all their lives.
"When they go to school, they don't know if they will like the teacher or if they will like a certain food before trying it or a book before reading it.
"This virus is just another of those unknowns," said Murrie. "We encourage them, say, 'You've been here before, you've walked through other strangers and come out the other side' and you will do that with that too. "
The Murries will be releasing another book in September via Workman Publishing Company. "The Howling Hairy Armadillo and 76 Other Animals With Weird, Wild Names" is designed for ages 7-10 in grades 1 to 5.